A monthly newsletter of honors and accomplishments
August 2021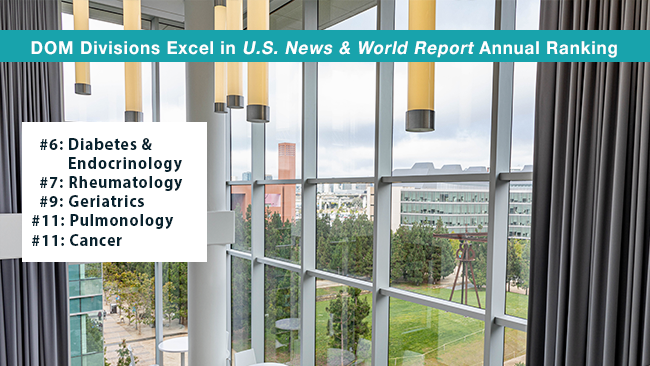 UCSF Medical Center was ranked 9th best hospital in the U.S. in the 2021-2022 U.S. News & World Report Best Hospitals Survey. Many DOM divisions' specialty ranking contributed to our health system's overall success — particularly diabetes and endocrinology (#6), rheumatology (#7), geriatrics (#9), pulmonology (#11), and cancer (#11). See the announcement here. As a reminder, earlier this year U.S. News & World Report ranked our department the #1 internal medicine program in the nation.
 OTHER HONORS
 PAT CORNETT'S TRANSITION

Pat Cornett, DOM Associate Chair for Education, will step down from her administrative role at the end of this academic year. She will remain in DOM as a clinician-educator in hematology. Read more here.
 DOM IN THE NEWS
Michelle Albert was interviewed on The Medical Alley Podcast discussing the Association of Black Cardiologists' role in addressing disparities in cardiovascular health for people of color and the importance of increasing diversity in clinical trials.

Peter Chin-Hong was featured in several media outlets (including the Wall Street Journal, PBS, and Scientific American) regarding masking indoors and how the Olympics may turn into a superspreading event. He and Monica Gandhi were also quoted in SF Gate, stressing that vaccination will protect people from experiencing severe side effects from the delta variant.

Lukejohn Day and Lisa Winston were quoted in the SF Chronicle describing breakthrough infections among staff at Zuckerberg San Francisco General Hospital and encouraging people to wear masks and get vaccinated.

Sarah Doernberg was quoted in the SF Chronicle about the spread of the delta variant. She also described how she is keeping her kids safe by wearing masks indoors in all public spaces and avoiding high risk situations.

Alicia Fernandez was interviewed on NPR about new data showing a steep decline in life expectancy for Black and Latino populations, driven largely by the pandemic.

Monica Gandhi was featured in several media outlets (including the Washington Post, Reuters, NPR, and Vox) about symptomatic breakthrough cases and upgrading to better types of masks. Gandhi also wrote op-eds in the Washington Post and the SF Chronicle describing how the delta variant is spreading among unvaccinated communities and encouraging all eligible people to get vaccinated.

Megha Garg moderated a panel for UCSF Magazine featuring Jennifer James, Phuoc Le, Akinyemi Oni-Orisan, Katherine Possin, and Neil Powe about using race in science and medicine.

Timothy Henrich was quoted in the Wall Street Journal and Nature about the difficulties in finding treatments for Long Covid, especially with varying symptoms among patients.

Annie Luetkemeyer was interviewed on ABC7 News describing how breakthrough cases could have been worse without the vaccine triggering a strong immune response.

Vinay Prasad was quoted in The Atlantic regarding his view that the FDA has lowered its standards for drug approval, and worrying that the cost of the Alzheimer's drug aducanumab could lead to a national fiscal emergency.

Brian Schwartz was quoted in the SF Chronicle discussing the complexities in assessing the immune status of immunocompromised people after vaccination.

Bob Wachter was featured in several media outlets (including the Washington Post, the New York Times, SF Chronicle, and SF Gate) regarding vaccine efficacy and the delta variant's increased risk of transmission.
 RECENT GRANTS OF NOTE

Mark Anderson and team: a grant of $8M over 5 years from the National Institute of General Medical Sciences for a project entitled, "Medical scientist training program (T32 NRSA training grant)."

Ruth Dubin and team: a grant of $4.6M over 4 years from the National Heart, Lung & Blood Institute for a project entitled, "Elucidating the biology of cardiovascular risk in hemodialysis patients using proteomics."

Alka Kanaya and team: a grant of $3.5M over 5 years from the National Institute on Minority Health and Health Disparities for a project entitled, "Understanding health disparities in Pakistani, Bangladeshi and Asian Indian immigrants: The role of socio-cultural context, acculturation and resilience resources."

Mandana Khalili and team: a grant of $3.5M over 5 years from the National Institute on Alcohol Abuse & Alcoholism for a project entitled, "Impact of the COVID-19 pandemic on patient outcomes, telehealth care delivery, and treatment for unhealthy alcohol use in vulnerable patients with advanced liver disease across two healthcare systems." 
DOM Quarantine Kitchen Cookbook

Enjoy recipes from colleagues!


DOM Grand Rounds
Moderated by Bob Wachter

Click here for all recorded sessions.


Get to Know
Your Colleagues

Brian Block
Li-Wen Huang
Click here for tips to curate your UCSF Profiles page.

 RECENT PUBLICATIONS OF NOTE
Albert MA, Carnethon MR, Watson KE. Disparities in cardiovascular medicine. Circulation. 2021 Jun 15;143(24):2319-2320. [Epub ahead of print] doi: 10.1161/CIRCULATIONAHA.121.055565. >> PubMed Citation

Beck KR, Shah ED, Hernandez-Barco YG; ACG FDA-Related Matters Committee. Understanding device development for gastrointestinal clinical care. Am J Gastroenterol. 2021 Jun 1;116(6):1107-1109. doi: 10.14309/ajg.0000000000001126. >> PubMed Citation

Rugo HS, Loi S, Adams S, et al. PD-L1 immunohistochemistry assay comparison in atezolizumab plus nab-paclitaxel-treated advanced triple-negative breast cancer. J Natl Cancer Inst. 2021 Jun 7;djab108. [Epub ahead of print]. doi: 10.1093/jnci/djab108.
>> PubMed Citation

Ryan L. Vaccinated but not protected-living immunocompromised during the pandemic. JAMA. 2021 Jun 22;325(24):2443-2444. doi: 10.1001/jama.2021.9321. >> PubMed Citation

Sarkar U, Cassel C. Humanism before heroism in medicine. JAMA. 2021 Jul 13;326(2):127-128. doi: 10.1001/jama.2021.9569. >> PubMed Citation

Tan JY, Sheira LA, Frongillo EA, Gustafson D, Sharma A, Merenstein D, Cohen MH, Golub E, Edmonds A, Ofotokun I, Fischl M, Konkle-Parker D, Neilands T, Tien P, Weiser SD. Food insecurity and frailty among women with and without HIV in the United States: a cross-sectional analysis. J Int AIDS Soc. 2021 Jun;24(6):e25751. doi: 10.1002/jia2.25751. >> PubMed Citation

Tseng ZH, Moffatt E, Kim A, Vittinghoff E, Ursell P, Connolly A, Olgin JE, Wong JK, Hsue PY. Sudden cardiac death and myocardial fibrosis, determined by autopsy, in persons with HIV. N Engl J Med. 2021 Jun 17;384(24):2306-2316. doi: 10.1056/NEJMoa1914279.
>> PubMed Citation

See all 176 DOM-authored publications last month here, and DOM-authored coronavirus-related publications here.

 FEATURED EVENTS

 

Medicine Grand Rounds
To address the rapidly evolving issues on the delta variant, DOM at UCSF Health will host a Grand Rounds in August. All other Grand Rounds at UCSF Health & VA/ZSFG will resume in September after Labor Day.
Thursday, August 12 | 12pm-1pm
» Information



 

DOM Faculty Townhall: Promotion to Associate Professor for Researchers
Panelists: David Erle, Kathleen Liu, and Neil Powe
Join this session to understand the faculty promotions process and ask your questions.
Wednesday, August 18 | 4pm-5pm
» Information
 


 

UCSF Health and Campus COVID-19 Response Town Hall
Join UCSF leaders to hear the latest about our response to the novel coronavirus, Covid-19.
Every other Friday | 4pm-5pm
» Information
For questions, comments, or suggestions, email the Webmaster.
UCSF Department of Medicine    |    505 Parnassus Avenue Rm M994, San Francisco CA 94143    |    medicine.ucsf.edu