A monthly newsletter of honors and accomplishments
July 2020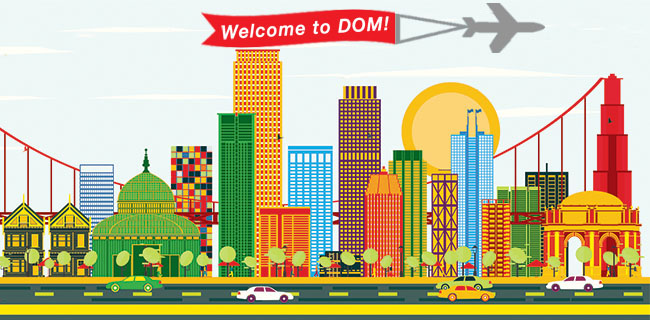 Welcome to our new DOM faculty members! There are 74 of them, with 60 based at UCSF Health, 8 at ZSFG, and 6 at the VA. Our new faculty are a vital source of energy and innovation, and we are confident that they will take UCSF and our department to even greater heights. See the list of new faculty and orientation dates here.
 OTHER HONORS & NEWS
 FACULTY/STAFF MORALE PROPOSALS

The School of Medicine is launching a grant program to help bolster morale within our communities. For more information and to submit a proposal, visit the SOM website. Deadline for the first cycle is July 30.
 DOM COHORT INITIATIVE
Each year, the Department of Medicine offers grants of up to $100,000 to initiate new patient cohorts or expand the use of existing cohorts into new areas. The goal is to develop cohorts that are widely used by both clinical and bench investigators and have high potential for sustained future funding.


The 2020 awardee is Michele Tana. Her project, "Expanding Prospective Observational Study to Understand Liver Diseases (POSULD) to Investigate Disparities in Autoimmune Hepatitis," will expand a clinical cohort and search for metagenomic sequences of pathogens in blood and liver tissue.

 NEWLY AWARDED GRANTS

David Erle and team: a cooperative agreement of $8.6M over 2 years from the National Institute of Allergy and Infectious Diseases for a project entitled, "UCSF Covid-19 immunophenotyping clinical study and core laboratories."

Adithya Cattamanchi and team: a grant of $7.2M over 5 years from the National Institute of Allergy and Infectious Diseases for a project entitled, "Childhood 'Omics' and Mycobacterium tuberculosis-derived BiOsignatures (COMBO) for TB diagnosis in high HIV prevalence settings."

Grant Dorsey and team: a cooperative agreement of $6M over 5 years from the National Institute of Allergy and Infectious Diseases for a project entitled, "Optimal chemopreventive regimens to prevent malaria and improve birth outcomes in Uganda."

Life Continuity Resources for Staff and Faculty

Click here for more resources.


Past DOM Grand Rounds
Moderated by Bob Wachter

Click here for all recorded sessions.


Get to Know
Your Colleagues
via

Edward Hsiao
Nynikka Palmer
Click here for tips to curate your UCSF Profiles page.

 DOM IN THE NEWS
Jennifer Babik was featured in Medscape and Mercury News detailing the clinical manifestations of Covid-19 and discussing the problems with the distribution of remdesivir.

Peter Chin-Hong was quoted in a NBC News article describing how a bilingual media program and virtual town halls helped improve communication with the Chinese community.

Anna Chodos was quoted in a Wired article describing how locking down long-term care facilities and isolating infected residents helped abate the coronavirus outbreak.

Sarah Doernberg was quoted in a New York Times article discussing reservations about hydroxychloroquine, emphasizing a need for clinical trials to assess the drug's value.

Alicia Fernandez, Lev Malevanchik, and Nick Iverson were featured in the SF Chronicle discussing how medical interpreters' services have taken on deeper importance during the coronavirus pandemic. Fernandez also co-wrote an op-ed with Alana Pfeffinger in SF Examiner about the disproportionate number of Covid-19 cases and hospitalization in San Francisco among the Latinx community.

Alex Marson was interviewed on 60 Minutes describing the challenges in interpreting Covid-19 antibody test results, and the need for more reliable testing.

Rupa Marya co-wrote an op-ed in the SF Chronicle urging the city to offer hotel lodging for people experiencing homelessness to reduce the spread of Covid-19. Marya was also featured in the Wall Street Journal and Mercury News about how medical experts are providing emergency care and compassion at anti-racism protests.

Bob Wachter was quoted or appeared in several media outlets (including NPR's All Things Considered, the New York Times, Wired, KCBS Radio, KQED, Today Show, ProPublica) describing the alarming spike in coronavirus cases and the end of the "California Miracle." He was also quoted, along with Maya Kotas, Michael Peters, Ethan Weiss, and Michelle Yu, in a CNBC article discussing UCSF's role in providing clinical support to the New York Presbyterian Hospital System during the coronavirus pandemic.

See all DOM coronavirus-related news here.

 RECENT PUBLICATIONS
Algazi AP, Twitty CG, Tsai KK, et al. Phase II trial of IL-12 plasmid transfection and PD-1 blockade in immunologically quiescent melanoma. Clin Cancer Res. 2020 May 06. [Epub ahead of print]. doi: 10.1158/1078-0432.CCR-19-2217. » PubMed citation

DeJong C, Chen AH, Lo B. An ethical framework for allocating scarce inpatient medications for Covid-19 in the US. JAMA 2020 May 15. [Epub ahead of print]. doi: 10.1001/jama.2020.8914.
» PubMed citation

Gandhi M, Yokoe DS, Havlir DV. Screening for Covid-19 in skilled nursing facilities. Reply. N Engl J Med. 2020 May 29; 382. [Epub ahead of print]. doi: 10.1056/NEJMc2017362. » PubMed citation

Haynes N, Cooper LA, Albert MA. At the heart of the matter: Unmasking and addressing Covid-19's toll on diverse populations. Circulation. 2020 May 04. [Epub ahead of print]. doi: 10.1161/CIRCULATIONAHA.120.048126. » PubMed citation

Kelley RK. Atezolizumab plus bevacizumab - A landmark in liver cancer. N Engl J Med 2020 05 14; 382(20):1953-1955. » PubMed citation

Kerkhoff AD, Sikombe K, Eshun-Wilson I, et al. Mortality estimates by age and sex among persons living with HIV after ART initiation in Zambia using electronic medical records supplemented with tracing a sample of lost patients: A cohort study. PLoS Med. 2020 May; 17(5):e1003107. » PubMed citation

See all 237 DOM-authored publications last month here, and DOM-authored coronavirus-related publications here.

 FEATURED EVENTS

 

Medicine Grand Rounds (Zoom Only)
To address the rapidly evolving science and policy issues surrounding Covid-19, DOM grand rounds will, for the foreseeable future, address Covid-related issues.
Thursdays | 12pm
» Information

 


 

UCSF Health and Campus COVID-19 Response Town Hall (Zoom Only)
Join UCSF leaders to hear the latest about our response to the novel coronavirus, Covid-19.
Fridays | 4pm-5pm
» Information


 
For questions, comments, or suggestions, email the Webmaster.
UCSF Department of Medicine    |    505 Parnassus Avenue Rm M994, San Francisco CA 94143    |    medicine.ucsf.edu