A monthly newsletter of honors and accomplishments
June 2021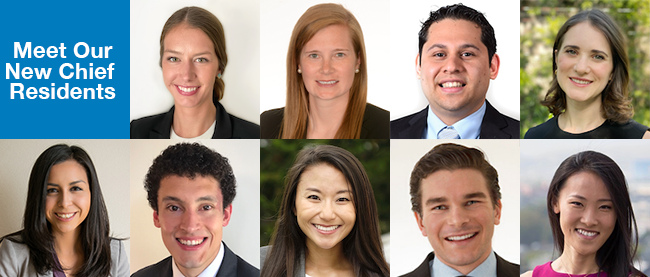 Join us in welcoming our 2021-2022 Chief Medical Residents:
First row (pictured left to right): Hope Caughron (UCSF Health); Sarah Flynn (VA); Arturo Gasga (VA); Raphaela Lipinsky-DeGette (ZSFG)
Second row: Adali Martinez (ZSFG); Andreas Mitchell (ZSFG); Kelsey Natsuhara (UCSF Health); Jack Penner (VA); Fangdi Sun (UCSF Health)

We also wish to thank our 2020-2021 chiefs, who did amazing work during an extraordinarily challenging year: Lurit Bepo, Colette Dejong, Yaanik Desai, Tim Dyster, Shirin Hemmat, Saundra Nguyen, TJ Nguyen, Theo Slomoff, and Anjali Thakkar.
| | | |
| --- | --- | --- |
| | | |
| Eleanor Bimla Schwarz was named Chief of the Division of General Internal Medicine at ZSFG.  | | |
 2021 DOM MASTER CLINICIANS
Nicole Appelle, Cameron Ashbaugh, Soraya Azari, and Kerry Cho are this year's Department of Medicine Master Clinicians. The Council of Master Clinicians was established to honor members of our faculty distinguished by their commitment to clinical medicine and their superb clinical skills. See the complete list of Master Clinicians here.
 OTHER HONORS
Giuseppe Cullaro received the 2021 Clinical, Translational, and Outcomes Research Award in Liver Diseases from the American Association for the Study of Liver Diseases Foundation.

Anita Hargrave received the Distinguished Professor of Women's Health Best Oral Abstract Award from the Society of General Internal Medicine.

Jennifer Lai and Michael Matthay received 2021 Mentor Awards from the Inquiry Program in the UCSF School of Medicine.

The Nocturnists: Black Voices in Healthcare, produced and co-hosted by Emily Silverman and Ashley McMullen, was a 2021 Webby Honoree in the category Podcasts: Diversity & Inclusion.

Carla Perissinotto received the Dr. Francis J. Curry Award from the Curry Senior Center for her work in assessing the effects of loneliness and isolation on seniors.

Leticia Rolon was named Associate Director of UCSF San Joaquin Valley Undergraduate Medical Expansion Program. Rolon also received a Faculty Award from the UCSF Latino Medical Student Association for her outstanding guidance, mentorship, and student support.

The UCSF Center for Colitis and Crohn's Disease launched IBD Chat, a digital health tool developed by Uma Mahadevan, Anobel Odisho, Olivia Bigazzi, and Aaron Neinstein at the Center for Digital Health Innovation to monitor complex IBD patients.

Mia Williams was selected as one of the winners of the 2021-2022 UCSF Health Caring Wisely Project Contest for her project entitled, "Decreasing 'No Shows' in Ambulatory Clinics to Improve Access & Equity in Patient Visit Access and Reduce Lost Revenue."
 SPIRIT OF DOM AWARDEES

Pictured above, left to right: Crisna Castro (Business Operations Analyst, SFVA Central Administration), Michael Chang (Operations Manager, UCSF Health Division of Hospital Medicine), and Jennifer Cohen (Project Director, SFVA Division of Infectious Diseases) are the recipients of the semiannual SPIRIT of DOM Award, which recognizes exceptional DOM staff members.
 DOM IN THE NEWS
Louise Aronson was quoted in the SF Chronicle about how the pandemic (especially complete lockdowns of long-term care facilities) has been catastrophic for those with dementia.

Peter Chin-Hong was featured in the SF Chronicle and SF Gate regarding Covid-19 variants, masking, and herd immunity in the Bay Area. He and Monica Gandhi were also quoted in SF Gate weighing in on the safety measures for holding the 2021 Tokyo Olympics.

Steven Deeks was quoted in SF Gate describing the difficulty in diagnosing and treating lingering symptoms triggered by Covid-19.

Monica Gandhi was featured in several media outlets (including Huffington Post, Scientific American, Wired, the Washington Post, the SF Chronicle, and SF Gate) discussing mask-wearing, pandemic health habits, asymptomatic spread, vaccine effectiveness, and the plan to vaccinate American teens.

Maria Garcia and Kirsten Bibbins-Domingo were featured in the SF Chronicle sharing their concerns about vaccine equity and getting the most vulnerable populations vaccinated before the state's June 15th reopening.

Jay Levy was featured in the SF Chronicle describing the challenges of reaching herd immunity, vaccination rates, and Covid-19 case tracking. He and Joel Ernst were also featured in the SF Chronicle, expressing confidence that vaccines will provide individuals with long-lasting protection.

Sarah Lisker, Courtney Lyles, and Urmimala Sarkar wrote an op-ed in the Harvard Business Review about how the pandemic revealed disparities in healthcare access for patients from lower socioeconomic backgrounds.

Aaron Neinstein was featured in the Washington Post exploring the little-understood link between Covid-19 and diabetes, the high cost of insulin, and solutions for diabetes treatment in America.

Michael Peluso was quoted in the SF Chronicle describing how coronavirus vaccines may ease post-Covid symptoms for patients.

The National Academy of Social Insurance's Covid-19 Task Force Epidemiology Working Group, which was chaired by Neil Powe and also included UCSF's Diane Havlir and George Rutherford, released a report assessing Covid-19's trajectory and implications for Medicare and Social Security.

Vinay Prasad and Monica Gandhi wrote an op-ed in The Atlantic urging the U.S. to delay shots for children until global vaccine-manufacturing capacity significantly expands and the crisis in India subsides.

Matt Springer was quoted in the New York Times recommending that states report Covid-19 deaths and hospitalizations by vaccination status to highlight the value of the shots.

Bob Wachter was featured in several media outlets (including KCBS Radio, Minnesota Public Radio, Governing, the San Francisco Business Times, the SF Chronicle, and SF Gate) regarding mask-wearing guidelines, San Francisco's low Covid-19 mortality, and using social media to inform during the pandemic. He and Monica Gandhi were also quoted in The New Yorker about vaccine efficacy and shift towards reopening America.
 RECENT GRANTS OF NOTE

Tien Peng and team: a grant of $2.2M over 4 years from the National Heart, Lung, and Blood Institute for a project entitled, "Mesenchymal modulation of epithelial metaplasia in lung fibrosis."

Emily Arnold and team: a grant of $1.2M over 4 years from the California HIV/AIDS Research Program for a project entitled, "Northern California HIV policy research center."

Rahul Aggarwal, Lawrence Fong, and team: a grant of $1M over 2 years from the Prostate Cancer Foundation for a project entitled, "177Lu-PSMA-617 as a radioimmunotherapy for prostate cancer."
DOM Quarantine Kitchen Cookbook

Enjoy recipes from colleagues!


DOM Grand Rounds
Moderated by Bob Wachter

Click here for all recorded sessions.


Get to Know
Your Colleagues

Vincent Auyeung
Maya Dulay
Click here for tips to curate your UCSF Profiles page.

 RECENT PUBLICATIONS OF NOTE
Appa A, Adamo M, Le S, Davis J, Winston L, Doernberg SB, Chambers H, Martin M, Hills NK, Coffin PO, Jain V. Comparative one-year outcomes of invasive Staphylococcus aureus infections among persons with and without drug use: An observational cohort study. Clin Infect Dis. 2021 Apr 27:ciab367. [Epub ahead of print]. doi: 10.1093/cid/ciab367. >> PubMed Citation

Bardia A, Hurvitz SA, Tolaney SM, Loirat D, Punie K, Oliveira M, Brufsky A, Sardesai SD, Kalinsky K, Zelnak AB, Weaver R, Traina T, Dalenc F, Aftimos P, Lynce F, Diab S, Cortés J, O'Shaughnessy J, Diéras V, Ferrario C, Schmid P, Carey LA, Gianni L, Piccart MJ, Loibl S, Goldenberg DM, Hong Q, Olivo MS, Itri LM, Rugo HS; ASCENT Clinical Trial Investigators. Sacituzumab govitecan in metastatic triple-negative breast cancer. N Engl J Med. 2021 Apr 22;384(16):1529-1541. doi: 10.1056/NEJMoa2028485. >> PubMed Citation

Khalili M, Kleiner DE, King WC, Sterling RK, Ghany MG, Chung RT, Bhan AK, Rosenthal P, Lisker-Melman M, Ramachandran R, Lok AS; the Hepatitis B Research Network (HBRN). Hepatic steatosis and steatohepatitis in a large North American cohort of adults with chronic hepatitis B. Am J Gastroenterol. 2021 Apr 8. [Epub ahead of print]. doi: 10.14309/ajg.0000000000001257. >> PubMed Citation

Minter DJ, Richie M, Kumthekar P, Hollander H. Stalking the diagnosis. N Engl J Med. 2021 Apr 01; 384(13):1262-1267. doi: 10.1056/NEJMcps2028560. >> PubMed Citation

Shade SB, Marseille E, Kirby V, Chakravarty D, Steward WT, Koester KK, Cajina A, Myers JJ. Health information technology interventions and engagement in HIV care and achievement of viral suppression in publicly funded settings in the US: A cost-effectiveness analysis. PLoS Med. 2021 Apr 7;18(4):e1003389. doi: 10.1371/journal.pmed.1003389. eCollection 2021 Apr.
>> PubMed Citation

Shitole SG, Lazar JM, Hanna DB, Kim RS, Anastos K, Garcia MJ, Tien PC, Lima JAC, Kaplan RC, Kizer JR. HIV, HCV, and risk of new-onset left ventricular dysfunction: The women's interagency HIV study. AIDS. 2021 Apr 15. [Epub ahead of print]. doi: 10.1097/QAD.0000000000002920. >> PubMed Citation

Tulpule A, Guan J, Neel DS, Allegakoen HR, Lin YP, Brown D, Chou YT, Heslin A, Chatterjee N, Perati S, Menon S, Nguyen TA, Debnath J, Ramirez AD, Shi X, Yang B, Feng S, Makhija S, Huang B, Bivona TG. Kinase-mediated RAS signaling via membraneless cytoplasmic protein granules. Cell. 2021 May 13;184(10):2649-2664.e18. doi: 10.1016/j.cell.2021.03.031.
>> PubMed Citation

See all 177 DOM-authored publications last month here, and DOM-authored coronavirus-related publications here.

 FEATURED EVENTS

 

Medicine Grand Rounds
To address the rapidly evolving issues surrounding Covid-19, DOM Grand Rounds at UCSF Health will continue to focus on the pandemic every other week, alternating with more traditional content, in June. These grand rounds will take a hiatus in July and August, resuming after Labor Day. VA/ZSFG Grand Rounds will take August off, resuming in September.
• Thursdays | 12pm » Information
• VA/ZSFG — Tuesdays | 12pm-1pm » Information




 

UCSF Health and Campus COVID-19 Response Town Hall
Join UCSF leaders to hear the latest about our response to the novel coronavirus, Covid-19.
Every other Friday | 4pm-5pm
» Information
 


 

UCSF Forum on Living Therapeutics and Cellular Manufacturing
Join UCSF Chancellor Sam Hawgood, Alan Ashworth, and faculty to learn more about UCSF's commitment and vision to living therapeutics and cellular manufacturing.
Friday, June 11 | 10am-11am
» Information
For questions, comments, or suggestions, email the Webmaster.
UCSF Department of Medicine    |    505 Parnassus Avenue Rm M994, San Francisco CA 94143    |    medicine.ucsf.edu