A monthly newsletter of honors and accomplishments
May 2021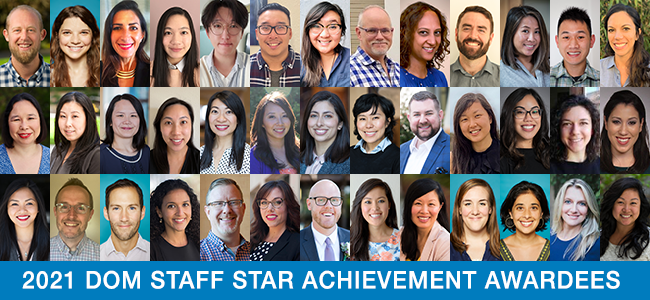 Congratulations to the recipients of the UCSF STAR Program Achievement Award! The award recognizes DOM staff members' significant contributions and sustained exceptional performance. See the complete list of awardees here.
| | | |
| --- | --- | --- |
| | | |
| | | Larissa Thomas was named the Academy of Medical Educator's Chair in the Scholarship of Teaching and Learning.  |
 OTHER HONORS AND NEWS
Louise Aronson was featured in several media outlets (including NextAvenue, The Associated Press, ABC7 News, and CBC News) discussing lessons from working with older patients during the pandemic.

Brooks Bigart and team received a commendation from Dean Talmadge King for their work in advancing social justice and anti-racism.

Andy Bindman and Lindsey Criswell, both professors emeritus, were elected to the Association of American Physicians (AAP).

Esteban Burchard was named president-elect of the UCSF Medical Alumni Association.

Peter Chin-Hong was featured in several media outlets (including SF Gate, SF Chronicle, and Wired) regarding variants, the J&J vaccine, and Covid cases in children.

Monica Gandhi was featured in several media outlets (including ABC7 News, The New York Times, USA Today, Knowable Magazine, The Washington Post, and SF Gate) regarding mask wearing, Covid variants, and vaccines.

Nora Goldschlager was named a luminary for her career and leadership in the field of electrophysiology in the Heart Rhythm Journal.

Gregory Ku received the Passion to Find a Cure Award from the Beatson Foundation, which provides grants to outstanding biomedical researchers in Type 1 Diabetes.

Margot Kushel was quoted in the SF Chronicle describing the impact of the pause in the J&J vaccine on its use in homeless and low-income populations.

Babak Javid was quoted in the SF Chronicle agreeing with the new CDC guidance on outside masking.

Andrew Leavitt was quoted in the SF Chronicle describing a case of Vaccine-Induced Thrombotic Thrombocytopenia in a male patient at UCSF Health.

Bernard Lo was quoted in SF Gate discussing whether or not children should be required to get vaccinated before returning to school in the fall.

Courtney Lyles and Urmimala Sarkar co-wrote a Health Affairs blog about the need for partnerships between business and academia to advance equity in digital health.

Mehrdad Matloubian was quoted in the SF Chronicle explaining that it is likely the medications, rather than the disease, that determines vaccine response in patients with autoimmune conditions.

Carla Perissinotto was quoted in the SF Chronicle regarding Covid-19 vaccination options for homebound people.

Lekshmi Santhosh was selected as one of the 10 scholars for the inaugural class of the National Academy of Medicine Scholars in Diagnostic Excellence program.

Matthew Springer was featured in a Vice article commenting on the positive and negative effects of individuals appearing on TikTok videos smoking herbal cigarettes.

Zian Tseng and Brian Black received the Marcus Precision Medicine Innovation Award for their project, "Somatic Mosaicism in Autopsy-Defined Sudden Cardiac Death."

Bob Wachter was featured in several media outlets (including The Washington Post, The Dr. Oz Show, LA Times, The Medhi Hasan Show, SF Chronicle, and Wired) regarding mask wearing, how to end the pandemic, and the Covid-19 vaccine roll-out.

 GALLUP STAFF ENGAGEMENT SURVEY

The 2021 Gallup Staff Engagement Survey is live! Please check your inbox for an email from Gallup with the survey link. Surveys are due May 21st.
  IN MEMORIAM: RICHARD (DICK) WEISIGER
Richard (Dick) Weisiger, Emeritus Professor in the GI Division at UCSF Health, died on April 24 at age 75. Dick made major contributions in research, and then dedicated the latter part of his career to clinical care, education, and innovation in medical informatics. Read more here.
 RECENT GRANTS OF NOTE

John Metcalfe and team: a grant of $3.7M over 5 years from the National Institute of Allergy and Infectious Diseases for a project entitled, "Handheld and population-based sequencing for rapid detection of new and repurposed drug resistance in M. tuberculosis."

Maya Vijayaraghavan and team: a grant of $3.4M over 5 years from the National Cancer Institute for a project entitled, "A community-based trial of a voluntary smoke-free home intervention in permanent supportive housing for formerly homeless adults."

Alison Huang and team: a grant of $1.4M over 4 years from the National Institute on Aging for a project entitled, "Promoting multidisciplinary clinical and translational science in aging by resident investigators."
DOM Quarantine Kitchen Cookbook

Enjoy recipes from colleagues!


DOM Grand Rounds
Moderated by Bob Wachter

Click here for all recorded sessions.


Get to Know
Your Colleagues

Peter Barish
Elaine Khoong
Click here for tips to curate your UCSF Profiles page.

 RECENT PUBLICATIONS OF NOTE
Baik AH, Tsai KK, Oh DY, Aras MA. Mechanisms and clinical manifestations of cardiovascular toxicities associated with immune checkpoint inhibitors. Clin Sci (Lond). 2021 Mar 12; 135(5):703-724. doi: 10.1042/CS20200331. >> PubMed Citation

Cauley JA, Shoback DM. Bone age is not just for kids. Elife. 2021 Mar 02; 10:e66916. doi: 10.7554/eLife.66916. >> PubMed Citation

DeJong C, Spinelli MA, Okochi H, Gandhi M. Tenofovir-based PrEP for Covid-19: an untapped opportunity? AIDS. 2021 Mar 11. [Epub ahead of print]. doi: 10.1097/QAD.0000000000002877. >> PubMed Citation

Dorman SE, Nahid P, Kurbatova EV, et al. Four-month rifapentine regimens with or without moxifloxacin for tuberculosis. N Engl J Med. 2021; 384:1705-1718 doi: 10.1056/NEJMoa2033400. >> PubMed Citation

Kiang MV, Chin ET, Huynh BQ, Chapman LAC, Rodríguez-Barraquer I, Greenhouse B, Rutherford GW, Bibbins-Domingo K, Havlir D, Basu S, Lo NC. Routine asymptomatic testing strategies for airline travel during the COVID-19 pandemic: a simulation study. Lancet Infect Dis. 2021 Mar 22;S1473-3099(21)00134-1. [Epub ahead of print]. doi: 10.1016/S1473-3099(21)00134-1. >> PubMed Citation

Reid M, Abdool-Karim Q, Geng E, Goosby E. How will Covid-19 transform global health post-pandemic? Defining research and investment opportunities and priorities. PLoS Med. 2021 Mar; 18(3):e1003564. eCollection 2021 Mar. doi: 10.1371/journal.pmed.1003564. >> PubMed Citation

Whelan AM, Johansen KL, Brar S, McCulloch CE, Adey DB, Roll GR, Grimes B, Ku E. Association between longer travel distance for transplant care and access to kidney transplantation and graft survival in the United States. J Am Soc Nephrol. 2021 Mar 12;ASN.2020081242. [Epub ahead of print]. doi: 10.1681/ASN.2020081242. >> PubMed Citation

See all 179 DOM-authored publications last month here, and DOM-authored coronavirus-related publications here.

 FEATURED EVENTS

 

Medicine Grand Rounds
To address the rapidly evolving science and policy issues surrounding Covid-19, DOM Grand Rounds will focus on the pandemic every other week, alternating with more traditional content, for the next few months.
• Thursdays | 12pm » Information
• VA/ZSFG — Tuesdays | 12pm-1pm » Information


 

UCSF Health and Campus COVID-19 Response Town Hall
Join UCSF leaders to hear the latest about our response to the novel coronavirus, Covid-19.
Every other Friday | 4pm-5pm
» Information
 


 

2021 Founders Day Awards Celebration
Join Chancellor Sam Hawgood at this virtual event to celebrate faculty, staff, and learners who exemplify UCSF's PRIDE Values, including our very own colleagues Alicia Fernandez and Angela Marks.
Friday, May 21 | 12pm-1:30pm
» Information


 

EPPICenter Series: Erin Mordecai - Global Change and the Ecology of Vector-Borne Disease
Speaker: Erin Mordecai, Asst. Professor, Stanford University
Join EPPICenter seminar to understand more about the Mordecai research group and their study on the ecology of infectious diseases.
Friday, May 28 | 1pm-3pm
» Information
 
For questions, comments, or suggestions, email the Webmaster.
UCSF Department of Medicine    |    505 Parnassus Avenue Rm M994, San Francisco CA 94143    |    medicine.ucsf.edu