A monthly newsletter of honors and accomplishments
September 2020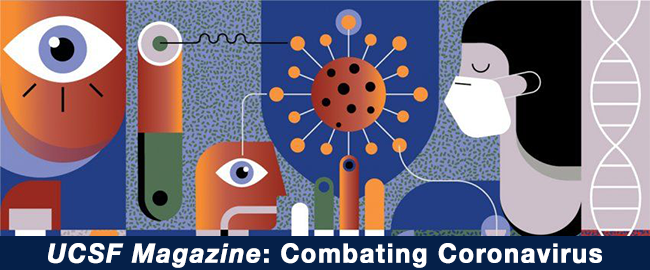 UCSF Magazine's Summer 2020 issue is devoted to UCSF's sweeping response to Covid-19 pandemic. The stories feature many of our DOM faculty. Read the magazine here.
 AME AWARDS: EXCELLENCE IN INTERPROFESSIONAL TEACHING

Congratulations to this year's recipients of the Academy of Medical Educators 2020 Excellence in Interprofessional Teaching Awards: Brook Calton, Pei Chen, Antonio Gomez, Todd James, and Scott Steiger (pictured from left to right).
 DOM IN THE NEWS
Michelle Albert and Neil Powe were quoted in the SF Chronicle discussing how stress can affect cardiovascular health and how everyday discrimination impacts the Black community. Albert was also quoted in SF Gate describing how Covid-19 affects heart health in Black women.

John Balmes and Stephanie Christenson were featured in a HuffPost article about how inhaling wildfire smoke can potentially worsen Covid-19 symptoms.

Scott Bauer was interviewed on CNBC describing his experience volunteering at San Quentin State Prison during the Covid-19 outbreak in the facility.

Kirsten Bibbins-Domingo and Margot Kushel co-wrote an op-ed in the LA Times about the disproportionate number of Covid-19 cases among low-wage essential workers, most of whom are Latino or Black, in California.

A group led by Archna Eniasivam, Phuoc Le, and colleagues in the Division of Hospital Medicine at UCSF Health created a petition to promote anti-racism efforts at UCSF. The effort was described in the SF Chronicle.

Timothy Henrich, Michael Peluso, Lekshmi Santhosh, and Neeta Thakur were quoted in a Vox article describing long-term Covid-19 symptoms and complications. Santhosh was also quoted in SF Gate discussing victim-blaming, shaming, and the stigma around contracting Covid-19.

Meshell Johnson was interviewed on KPIX-TV on the long-term effects of smoke and air particulates from the wildfires.

Mike Reid was quoted in a Wired article describing San Francisco's contact tracing efforts and the need for a more coordinated national approach on testing and reporting.

Bob Wachter, Joe Derisi, Diane Havlir, and George Rutherford were quoted in a Wired article about San Francisco's response to Covid-19. Wachter was also quoted in multiple media outlets including Mercury News, KCBS Radio, and CNBC regarding a variety of Covid-19 related topics.

See all DOM coronavirus-related news here.

 NEWLY AWARDED GRANTS

Phyllis Tien and team: a cooperative agreement of $26.4M over 7 years from the National Heart, Lung & Blood Institute for a project entitled, "SF Bay Area MACS (Multicenter AIDS Cohort Study)/WIHS (Women's Interagency HIV Study) combined cohort study."

Paula Lum and team: a grant of $4M over 5 years from the U.S. Department of Health and Human Services for a project entitled, "UCSF primary care addiction medicine fellowship program expansion."

Hong-Ha Truong and team: a grant of $3.2M over 4 years from the National Institute of Child Health & Human Development for a project entitled, "In our own words: peer-to-peer messaging to increase uptake of HIV prevention strategies among adolescents in Kenya."

Life Continuity Resources for Staff and Faculty

Click here for more resources.


Past DOM Grand Rounds
Moderated by Bob Wachter

Click here for all recorded sessions.


Get to Know
Your Colleagues
via

Jeffrey Critchfield
Lorriana Leard
Click here for tips to curate your UCSF Profiles page.

 RECENT PUBLICATIONS
Aggarwal RR, Schweizer MT, Nanus DM, et al. A Phase 1b/2a study of the Pan-BET bromodomain inhibitor ZEN-3694 in combination with enzalutamide in patients with metastatic castration resistant prostate cancer. Clin Cancer Res. 2020 Jul 21; clincanres.1707.2020. [Epub ahead of print]. doi: 10.1158/1078-0432.CCR-20-1707. » PubMed citation

Bindman A. Avoiding a health care financial meltdown. JAMA. 2020 Jul 7; 324(1):17-18. doi: 10.1001/jama.2020.10415. » PubMed citation

Cleary SJ, Kwaan N, Tian JJ, et al. Complement activation on endothelium initiates antibody-mediated acute lung injury. J Clin Invest. 2020 Jun 03. [Epub ahead of print]. doi: 10.1002/hep.31406. » PubMed citation

Kelley RK, Meyer T, Rimassa L, et al. Serum alpha-fetoprotein levels and clinical outcome in the phase III CELESTIAL study of cabozantinib versus placebo in patients with advanced hepatocellular carcinoma. Clin Cancer Res. 2020 Jul 07. [Epub ahead of print]. doi: 10.1158/1078-0432.CCR-19-3884. » PubMed citation

Paul DW, Knight KR, Campbell A, Aronson L. Beyond a moment — reckoning with our history and embracing antiracism in medicine. N Engl J Med. 2020 Jul 28. [Epub ahead of print]. doi: 10.1056/NEJMp2021812. » PubMed citation

Roy M, Bolton-Moore C, Sikazwe I, et al. Participation in adherence clubs and on-time drug pickup among HIV-infected adults in Zambia: A matched-pair cluster randomized trial. PLoS Med. 2020 Jul; 17(7):e1003116. doi: 10.1371/journal.pmed.1003116. eCollection 2020 Jul.
» PubMed citation

Shieh Y, Tice JA. Medications for primary prevention of breast cancer. JAMA. 2020 Jul 21; 324(3):291-292. doi: 10.1001/jama.2020.9246. » PubMed citation

See all 223 DOM-authored publications last month here, and DOM-authored coronavirus-related publications here.

 FEATURED EVENTS

 

Medicine Grand Rounds (Zoom Only)
To address the rapidly evolving science and policy issues surrounding Covid-19, DOM Grand Rounds will focus on the pandemic every other week, alternating with more traditional content, for the foreseeable future.
Thursdays | 12pm
» Information
 


 

UCSF Health and Campus COVID-19 Response Town Hall (Zoom Only)
Join UCSF leaders to hear the latest about our response to the novel coronavirus, Covid-19.
Every other Friday | 4pm-5pm
» Information
 
For questions, comments, or suggestions, email the Webmaster.
UCSF Department of Medicine    |    505 Parnassus Avenue Rm M994, San Francisco CA 94143    |    medicine.ucsf.edu