A monthly newsletter of honors and accomplishments
September 2021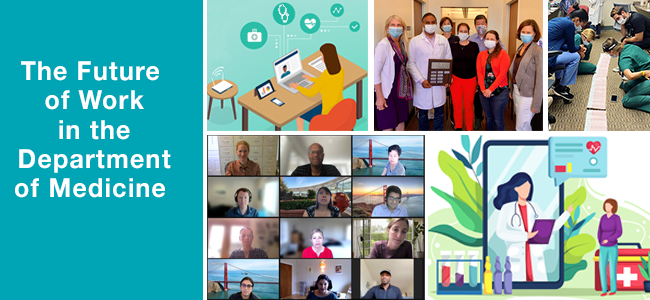 The trials of the past 18 months have left scars, but they also are the grit that makes the pearl—driving innovations that simply would not have been possible pre-2020. The DOM aims to build on these experiences as we plan the future of our work. We welcome your ideas and hope you'll join us as we reimagine our work to make it as safe, productive, and joyful as it can be. Read Bob Wachter and Maria Novelero's observations here.
 OTHER HONORS & NEWS
 SPECIAL DOM-WIDE TOWN HALL: FRIDAY, SEPT 10, AT NOON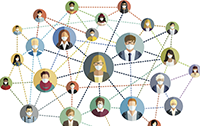 Please join us for a virtual DOM-wide town hall at noon on Friday, September 10, on the challenges of life and work in the time of Covid. A panel of DOM faculty, staff, and trainees will share their current struggles and ideas to mitigate them. Click here for more information.
 DOM IN THE NEWS
Peter Chin-Hong was quoted in the Los Angeles Times warning about high case rates in the state. He, George Rutherford, and Bob Wachter were also quoted in the SF Chronicle, cautioning that while cases in the Bay Area have leveled off, they could surge again.

Monica Gandhi was quoted in Reuters about a popular meme spreading misinformation about the vaccines, and in the AP News about how California's case rates are trending downward thanks to vaccines and natural immunity.

Warner Greene was quoted in the SF Chronicle describing why a Bay Area lockdown at this point seems unlikely because indoor mask mandates and vaccines offer strong protection.

Annie Luetkemeyer was featured on Chicago WGN9 News with her sister, actress Julie Bowen of Modern Family, about helping a hiker who had fallen in Arches National Park.

Gregory Marcus was featured in the Washington Post and US News & World Report discussing his research showing that caffeine does not increase risk of arrhythmias.

Benjamin Rosner was interviewed on Kaiser Health News about how health data from wearable devices is not yet widely accepted by doctors.

Bob Wachter was featured in the New York Times, KQED, and KALW regarding breakthrough infections, long Covid, and booster shots. He was also featured on ABC7 News (along with Peter Chin-Hong) and in SFist (along with Peter Chin-Hong and Monica Gandhi), saying that the delta surge has peaked in the Bay Area.

Yerem Yeghiazarians was quoted on CBS News explaining how undiagnosed sleep apnea can contribute to cardiovascular problems.
 RECENT GRANTS OF NOTE

Isabel Rodriguez-Barraquer and team: a grant of $3.7M over 5 years from the National Institute of Allergy & Infectious Diseases for a project entitled, "Malaria across borders: Measuring imported infections and contributions to local transmission in Uganda and Zimbabwe."

Peter Ganz, Ruth Dubin and team: a grant of $2.4M over 3.8 years from the National Heart, Lung & Blood Institute for a project entitled, "Proteomics of cardiovascular risk: The multiethnic study of atherosclerosis."

Mallar Bhattacharya and team: a grant of $2.4M over 4 years from the Department of Defense for a project entitled, "Targeting ATP receptor P2RX4 for pulmonary fibrosis."
DOM Faculty Promotion Guidelines

Learn how to advance your career.


DOM Grand Rounds
Moderated by Bob Wachter

Click here for all recorded sessions.


Get to Know
Your Colleagues

Kana McKee
Clifton Watt
Click here for tips to curate your UCSF Profiles page.

 RECENT PUBLICATIONS OF NOTE
Dodagatta-Marri E, Ma HY, Liang B, Li J, Meyer DS, Chen SY, Sun KH, Ren X, Zivak B, Rosenblum MD, Headley MB, Pinzas L, Reed NI, Del Cid JS, Hann BC, Yang S, Giddabasappa A, Noorbehesht K, Yang B, Dal Porto J, Tsukui T, Niessen K, Atakilit A, Akhurst RJ, Sheppard D. Integrin αvβ8 on T cells suppresses anti-tumor immunity in multiple models and is a promising target for tumor immunotherapy. Cell Rep. 2021 Jul 6;36(1):109309. doi: 10.1016/j.celrep.2021.109309. >> PubMed Citation

Holmgren AJ, Cutler D, Mehrotra A. The increasing role of physician practices as bill collectors: Destined for failure. JAMA. 2021 Jul 30. [Epub ahead of print]. doi: 10.1001/jama.2021.12191. >> PubMed Citation

Kelley RK, Greten TF. Hepatocellular carcinoma - Origins and outcomes. N Engl J Med. 2021 Jul 15;385(3):280-282. doi: 10.1056/NEJMcibr2106594. >> PubMed Citation

Kerlikowske K, Bissell MCS, Sprague BL, et al. Advanced breast cancer definitions by staging system examined in the breast cancer surveillance consortium. J Natl Cancer Inst. 2021 Jul 1;113(7):909-916. doi: 10.1093/jnci/djaa176. >> PubMed Citation

Matthay MA, Luetkemeyer AF. IL-6 receptor antagonist therapy for patients hospitalized for COVID-19: Who, when, and how? JAMA. 2021 Aug 10;326(6):483-485. doi: 10.1001/jama.2021.11121. >> PubMed Citation

Meyer NJ, Gattinoni L, Calfee CS. Acute respiratory distress syndrome. Lancet. 2021 Aug 14;398(10300):622-637. [Epub ahead of print]. doi: 10.1016/S0140-6736(21)00439-6. Epub 2021 Jul 1. >> PubMed Citation

Sarkar U, Cassel C. Humanism before heroism in medicine. JAMA. 2021 Jul 13;326(2):127-128. doi: 10.1001/jama.2021.9569. >> PubMed Citation

Steinman MA, Boyd CM, Schmader KE. Expanding evidence for clinical care of older adults: Beyond clinical trial traditions and finding new approaches. JAMA. 2021 Aug 10;326(6):475-476. doi: 10.1001/jama.2021.12134. >> PubMed Citation

Wadhwani SI, Gottlieb L, Bucuvalas JC, Lyles C, Lai JC. Addressing social adversity to improve outcomes for children after liver transplant. Hepatology. 2021 Jul 28. [Epub ahead of print]. doi: 10.1002/hep.32073. >> PubMed Citation

See all 225 DOM-authored publications last month here, and DOM-authored coronavirus-related publications here.

 FEATURED EVENTS

 

Medicine Grand Rounds
To address the rapidly evolving issues surrounding Covid-19, DOM Grand Rounds will focus on the pandemic once every month, alternating with more traditional content, for the fall academic year.
• Thursdays | 12pm » Information
• VA/ZSFG — Tuesdays | 12pm-1pm » Information




 

UCSF Health and Campus COVID-19 Response Town Hall
Join UCSF leaders to hear the latest about our response to the novel coronavirus, Covid-19.
Every other Friday | 4pm-5pm
» Information


 

Faculty Development Day 2021
A one-day virtual event that provides resources for professional development and enhancement to faculty life at UCSF. More details to follow from the Campus Council on Faculty Life.
Tuesday, September 14 | 9am-4pm
» Information


For questions, comments, or suggestions, email the Webmaster.
UCSF Department of Medicine    |    505 Parnassus Avenue Rm M994, San Francisco CA 94143    |    medicine.ucsf.edu