A monthly newsletter of honors and accomplishments
June 2020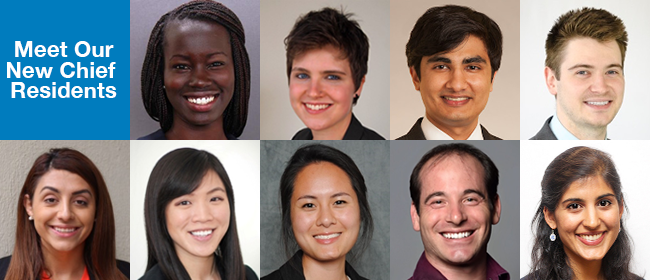 Join us in welcoming our 2020-2021 Chief Medical Residents:
First row (pictured left to right, alphabetical order): Lurit Bepo (ZSFG); Colette Dejong (VA); Yaanik Desai (VA); and Timothy Dyster (UCSF Health)
Second row: Shirin Hemmat (VA); Saundra Nguyen (ZSFG); Thuy Trang (TJ) Nguyen (ZSFG); Theo Slomoff (UCSF Health); and Anjali Thakkar (UCSF Health)

 2020 DOM MASTER CLINICIANS
Lianne Gensler, Antonio Gomez, Mary Gray, Lowell Lo, and Judith Wisneski (pictured above, left to right) are this year's Department of Medicine Master Clinicians. The Council of Master Clinicians was established to honor members of our faculty distinguished by their commitment to clinical medicine and their superb clinical skills. See the complete list of Master Clinicians here, including former awardees.
 OTHER HONORS & COVID-19 NEWS
Peter Barish received the School of Medicine Award for Excellence in Teaching for Clinical Faculty.

David Chia, Robin Goldman, Era Kryzhanovskaya, Anna Malkina, Lisa Ochoa-Frongia, and Binh An Phan were accepted to the Teaching Scholars Program for 2020-2021.

Peter Chin-Hong was quoted in several media outlets (NY Times, Wall Street Journal, SF Chronicle, KQED) discussing Covid-19 myths, transmission risks, the role of convalescent plasma, and problems with the distribution of remdesivir.

Claire Debolt, Nghiem Ha, Katherine Malcolm, and John Penner received the School of Medicine Teaching Excellence Award for Cherished Housestaff (T.E.A.C.H).

Joel Ernst and Melanie Ott were quoted in a Mercury News article regarding the potential of a coronavirus vaccine in 2021. Ott and Michael Matthay also appeared on NPR describing SARS-CoV-2 transmission and how the virus hijacks human cells.

Tung Nguyen was quoted in the SF Chronicle about data suggesting higher coronavirus death rates in San Francisco's Asian American community.

Sriram Shamasunder appeared in multiple media outlets (SF Chronicle, KQED, The Appeal, ABC News, Albuquerque Journal) discussing UCSF's Heal Initiative, and its role in providing clinical support to the Navajo Nation during the coronavirus pandemic.

Emily Silverman was featured in Pop-Up Magazine for her miniseries, "Stories from a Pandemic," highlighting audio diaries from doctors, nurses, and administrators about their work in the time of Covid-19.

Bob Wachter was featured in the Wall Street Journal in an article discussing his widely-read tweets about scientific, clinical, and policy aspects of the pandemic. He, Molly Cooke, and Paul Volberding were featured in a CNBC News article describing how San Francisco's response to the AIDS epidemic influenced its response to Covid-19.

Ethan Weiss was featured in a New York Times article about the safety of airline travel in the Covid-19 pandemic.

See all DOM coronavirus-related news here.

 2020 DOM STAFF ACHIEVEMENT AWARDEES

Congratulations to the DOM staff recipients of the UCSF STAR Program Achievement Awards! These awards recognize staff members' significant contributions and/or sustained exceptional performance over time. See the complete list of DOM awardees here.
 NEWLY AWARDED GRANTS

Stanton Glantz and team: a grant of $20.4M over 5 years from the National Heart, Lung and Blood Institute for a project entitled, "Integrated health, behavioral and economic research on current and emerging tobacco products."

Rima Arnaout and team: a grant of $4M over 5 years from the National Heart, Lung and Blood Institute for a project entitled, "Improving cardiovascular image-based phenotyping using emerging methods in artificial intelligence."

Katerina Christopoulos and team: a grant of $3.2M over 4 years from the National Institute of Mental Health for a project entitled, "Understanding patient, provider, and systems stakeholder attitudes and preferences to optimize implementation of long-acting injectable antiretrovirals and maximize clinical and public health impact."

Life Continuity Resources for Staff and Faculty

Click here for more resources.


Past DOM Grand Rounds
Moderated by Bob Wachter

Click here for all recorded sessions.


Get to Know
Your Colleagues
via

John Chorba
Shalini Patel
Click here for tips to curate your UCSF Profiles page.

 RECENT PUBLICATIONS
Aronson L. Age, complexity, and crisis - a prescription for progress in pandemic. N Engl J Med. 2020 Apr 07; [Epub ahead of print]. doi: 10.1056/NEJMp2006115. » PubMed citation

Gordon DE, Jang GM, Bouhaddou M, et al. A SARS-CoV-2 protein interaction map reveals targets for drug repurposing. Nature 2020 Apr 30; [Epub ahead of print]. doi: 10.1038/s41586-020-2286-9. » PubMed citation

Ortiz-Muñoz G, Yu MA, Lefrançais E, et al. Cystic fibrosis transmembrane conductance regulator dysfunction in platelets drives lung hyperinflammation. J Clin Invest. 2020 Apr 01; 130(4):2041-2053. » PubMed citation

Peters MC, Sajuthi S, Deford P, et al. COVID-19 related genes in sputum cells in asthma: Relationship to demographic features and corticosteroids. Am J Respir Crit Care Med. 2020 Apr 29; [Epub ahead of print]. doi: 10.1164/rccm.202003-0821OC. » PubMed citation

Ricardo-Gonzalez RR, Schneider C, Liao C, et al. Tissue-specific pathways extrude activated ILC2s to disseminate type 2 immunity. J Exp Med. 2020 Apr 06; 217(4):e20191172.
» PubMed citation

Roth TL, Li PJ, Blaeschke F, et al. Pooled knockin targeting for genome engineering of cellular immunotherapies. Cell. 2020 Apr 15; 181(3):728-744.e21. » PubMed citation

See all 215 DOM-authored publications last month here, and DOM-authored coronavirus-related publications here.

 FEATURED EVENTS

 

Medicine Grand Rounds (Zoom Only)
To address the rapidly evolving science and policy issues surrounding Covid-19, DOM grand rounds will, for the foreseeable future, address Covid-related issues.
Thursdays | 12pm
» Information

 


 

UCSF Health and Campus COVID-19 Response Town Hall (Zoom Only)
Join UCSF leaders to hear the latest about our response to the novel coronavirus, Covid-19.
Fridays | 4pm-5pm
» Information


 
For questions, comments, or suggestions, email the Webmaster.
UCSF Department of Medicine    |    505 Parnassus Avenue Rm M994, San Francisco CA 94143    |    medicine.ucsf.edu