A monthly newsletter of honors and accomplishments
December 2019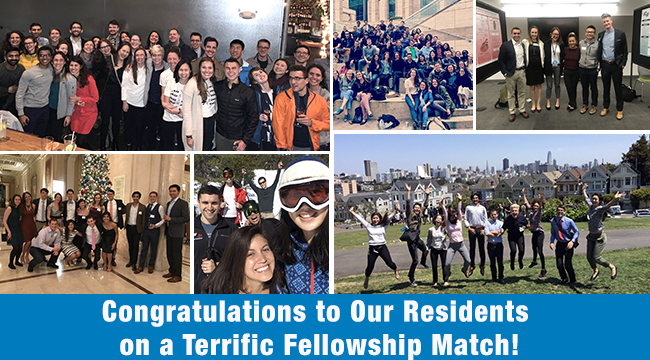 We're thrilled that our residents enjoyed a wonderful fellowship match, with matches in many of the nation's top programs across a broad range of specialties. We're particularly pleased that 23 of our 40 medicine residents applying this year matched in a UCSF fellowship!
| | | |
| --- | --- | --- |
| | | |
| | Paula Lum received the W. Anderson Spickard, Jr. Excellence in Mentorship Award from AMERSA. | |
 OTHER HONORS AND NEWS
 INTERVIEW WITH ANJALI THAKKAR
Each month, we interview a member of the DOM community. Anjali Thakkar is a resident physician in the UCSF Department of Medicine. Read her interview to learn how her first-hand observation of healthcare barriers influenced her journey into a career in medicine.
  IN MEMORIAM: RAKESH MISHRA

We mourn the passing of Rakesh Mishra, Professor of Medicine in the Division of Cardiology at the VA, who died on November 29, 2019. Rakesh, shown here with his children and wife, UCSF Professor Monica Gandhi, inspired his patients, trainees and colleagues with his courage, humor, dignity, and quiet grace. Read more here.
 NEWLY AWARDED GRANTS

John Fahy and team: a grant of $12.2M over 5 years from the National Heart, Lung & Blood Institute for a project entitled, "Exploring the biology of persistent type 2 airway niches in asthma."

Josette Rivera and team: a cooperative agreement of $3.75M over 5 years from the PHS Health Resources and Services Administration (HRSA) for a project entitled, "Expanding the optimizing aging collaborative: A national model for developing age-friendly health systems for underserved older adults."

Michael McGrath and team: a grant of $2.8M over 5 years from the National Cancer Institute for a project entitled, "Pathogenesis of the cART unresponsive Kaposi's sarcoma tumor niche."

Diversity, Equity & Inclusion Training
All faculty members are encouraged to take the training!

Click here to register.


Past DOM Fireside Chats
Provost Daniel Lowenstein
Interviewed by Bob Wachter

Click here for all Fireside Chats.


Get to Know
Your Colleagues
via

William Brown
Megha Garg
Click here for tips to curate your UCSF Profiles page.

 RECENT PUBLICATIONS
Balmes JR. Vaping-induced acute lung injury: An epidemic that could have been prevented. Am J Respir Crit Care Med. 2019;200:1342-1344. doi: 10.1164/rccm.201910-1903ED.
» PubMed citation

Blakely CM. A new pathway emerges to interpret lung cancer genomic alterations. Clin Cancer Res. 2019 Oct 14; [Epub ahead of print]. doi: 10.1158/1078-0432.CCR-19-2861.
» PubMed citation

Herzig E, Kim KC, Packard TA, et al. Attacking latent HIV with convertible CAR-T cells, a highly adaptable killing platform. Cell. 2019;179:880-894. doi: 10.1016/j.cell.2019.10.002.
» PubMed citation

Leddy AM, Sheira LA, Tamraz B, et al. Food insecurity is associated with lower levels of antiretroviral drug concentrations in hair among a cohort of women living with HIV in the United States. Clin Infect Dis. 2019 Oct 14; [Epub ahead of print]. doi: 10.1093/cid/ciz1007.
» PubMed citation

Lo WL, Shah NH, Rubin SA, et al. Slow phosphorylation of a tyrosine residue in LAT optimizes T cell ligand discrimination. Nat Immunol. 2019;20:1481-1493. doi: 10.1038/s41590-019-0502-2.
» PubMed citation

Tan C, Noviski M, Huizar J, Zikherman J. Self-reactivity on a spectrum: a sliding scale of peripheral B cell tolerance. Immunol Rev. 2019 Oct 20; [Epub ahead of print]. doi: 10.1111/imr.12818. » PubMed citation

Williams, S.A., Kivimaki, M., Langenberg, C., et al. Plasma protein patterns as comprehensive indicators of health. Nat Med. 2019;25(12):1851-1857. doi: 10.1038/s41591-019-0665-2.
» PubMed citation

See all 211 DOM-authored publications last month here.

 FEATURED EVENTS

   

Staff Appreciation Holiday Breakfasts
Hosted by UCSF Executive Leadership
See here for schedule of breakfasts and other events.
» Information



 

Medicine Grand Rounds
See here for this month's calendar at all our sites.
Thursdays | 12pm-1pm
HSW-301 Auditorium @ Parnassus

Tuesdays | 12pm-1pm
• Carr Auditorium @ ZSFG » Information
• Building 7 Auditorium @ VAMC » Information

 
For questions, comments, or suggestions, email the Webmaster.
UCSF Department of Medicine    |    505 Parnassus Avenue Rm M994, San Francisco CA 94143    |    medicine.ucsf.edu