A monthly newsletter of honors and accomplishments
February 2020
The School of Medicine (SOM) held its annual leadership retreat in January, focusing on UCSF's digital transformation. SOM, health system, and campus leaders joined frontline stakeholders to explore how best to leverage emerging technologies and data science to support our faculty, learners, patients, and staff. The SOM will share a summary of the retreat in the coming weeks.
 FACULTY ANNUAL REVIEW: DUE APRIL 30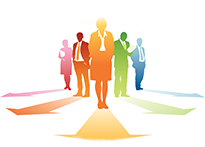 Our department requires every faculty member to have an annual meeting with their division chief (or the chief's designee) to discuss performance, goals for the coming year, and career planning. All faculty members with a paid UCSF appointment and/or faculty members who are affiliated with UCSF (e.g., VAMC, HHMI, Gladstone) are included. Read Bob Wachter's announcement here.
 DOM COHORT GRANT: DUE APRIL 30

Each year, the Department of Medicine offers grants of up to $100,000 to initiate new patient cohorts or expand the use of existing cohorts. The RFA for the cohort grant is now open. Assistant and Associate Professors are eligible to apply. Applications are due April 30, 2020.
 NEWLY AWARDED GRANTS

Trevor Bivona and team: a cooperative agreement of $3.5M over 3 years from the National Cancer Institute for a project entitled, "Bay Area Team Against Resistance."

Peter Hunt and team: a grant of $2.25M over 3 years from the Bill and Melinda Gates Foundation for a project entitled, "Treatment interruption to characterize the HIV-1 latent reservoir and identify biomarkers of viral rebound."

Brie Williams and team: a grant of $1.9M over 5 years from the National Institute on Aging for a project entitled, "Advancing health disparities research in aging: The Aging Research in Criminal justice and Health (ARCH) Network."

Diversity, Equity & Inclusion Training
All faculty members are encouraged to take the training!

Click here to register.


Past DOM Fireside Chats
Catherine Lucey
Interviewed by Bob Wachter

Click here for all Fireside Chats.


Get to Know
Your Colleagues
via

Diana Alba
Valy Fontil
Click here for tips to curate your UCSF Profiles page.

 RECENT PUBLICATIONS
Ascher SB, Scherzer R, Estrella MM, et al. HIV pre-exposure prophylaxis with tenofovir disoproxil fumarate/emtricitabine and changes in kidney function and tubular health. AIDS. 2019 Dec 02; [Epub ahead of print]. doi: 10.1097/QAD.0000000000002456. » PubMed citation

Ndung'u T, McCune JM, Deeks SG. Why and where an HIV cure is needed and how it might be achieved. Nature. 2019 12; 576(7787):397-405. »PubMed citation

Nguyen DN, Roth TL, Li PJ, et al. Polymer-stabilized Cas9 nanoparticles and modified repair templates increase genome editing efficiency. Nat Biotechnical. 2020 Jan; 38(1):44-49. » PubMed citation

Nyathi S, Karpel HC, Sainani KL, et al. The 2016 California policy to eliminate nonmedical vaccine exemptions and changes in vaccine coverage: An empirical policy analysis. PLoS Med. 2019 Dec; 16(12):e1002994. » PubMed citation

Prasad PA, Fang MC, Abe-Jones Y, et al. Time to recognition of sepsis in the emergency department using electronic health record data: A comparative analysis of systemic inflammatory response syndrome, sequential organ failure assessment, and quick sequential organ failure assessment. Crit Care Med. 2019 Dec 03; [Epub ahead of print]. doi: 10.1097/CCM.0000000000004132. » PubMed citation

See all 185 DOM-authored publications last month here.

 FEATURED EVENTS

 

Medicine Grand Rounds
See here for this month's calendar at all our sites.
Thursdays | 12pm-1pm
HSW-301 Auditorium @ Parnassus

Tuesdays | 12pm-1pm
• Carr Auditorium @ ZSFG » Information
• Building 7 Auditorium @ VAMC » Information

 
For questions, comments, or suggestions, email the Webmaster.
UCSF Department of Medicine    |    505 Parnassus Avenue Rm M994, San Francisco CA 94143    |    medicine.ucsf.edu