A monthly newsletter of honors and accomplishments
April 2020
 DOM REMAINS #1 RECIPIENT IN NIH FUNDING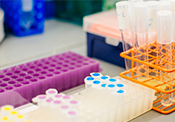 In 2019, the Department of Medicine (DOM) received the most NIH funding of any department in the U.S. for the 8th year in a row, with more than $216M in NIH funding, representing 35% of the $618M received by the School of Medicine (which was also first in the nation). Read more about the rankings here.
 RESIDENCY PROGRAM MATCH RESULTS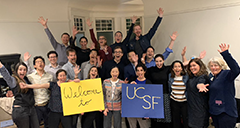 We had another terrific match this year! In addition to matching 15 UCSF students, we drew from a broad array of schools (32 in total). Sixteen of the 63 entering interns are from groups underrepresented in medicine, and there are 12 physician-scientists joining the program. See the list here.
 IN MEMORIAM: JOHN F. MURRAY
John F. Murray, Emeritus Professor of Medicine, died in Paris on March 24, 2020 at the age of 92. John was chief of pulmonary medicine at ZSFG for 23 years and had a huge impact on the field of pulmonary medicine locally, nationally, and internationally. Read the DOM note here and the New York Times obituary here.
 NEWLY AWARDED GRANTS

Joel Palefsky and team: a cooperative agreement of $7M over 5 years from the National Cancer Institute for a project entitled, "California-Mexico-Puerto Rico Partnership (CAMPO) Center for Prevention of HPV-related Cancer in HIV+ Populations."

Zian Tseng and team: a grant of $3.2M over 4 years from the National Heart, Lung and Blood Institute for a project entitled, "Molecular phenotyping for autopsy-defined sudden cardiac death."

Dean Sheppard and team: a grant of $3M over 4 years from the National Heart, Lung and Blood Institute for a project entitled, "Interventional targeting of the IRE1alpha-TGFbeta signaling loop in pulmonary fibrosis."

Life Continuity Resources for Staff and Faculty

Click here for more resources.


Past DOM Fireside Chats
David Shulkin
Former Secretary of the VA
Interviewed by Bob Wachter

Click here for all Fireside Chats.


Get to Know
Your Colleagues
via

Erin Gordon
Scott Bauer
Click here for tips to curate your UCSF Profiles page.

 RECENT PUBLICATIONS
Chou J, Quigley DA, Robinson TM, Feng FY, Ashworth A. Transcription-associated cyclin-dependent kinases as targets and biomarkers for cancer therapy. Cancer Discov. 2020 Feb 18; 10(3):351-370. » PubMed citation

Dhruva SS, Ross JS, Mortazavi BJ, et al. Association of use of an intravascular microaxial left ventricular assist device vs intra-aortic balloon pump with in-hospital mortality and major bleeding among patients with acute myocardial infarction complicated by cardiogenic shock. JAMA. 2020 Feb 10; [Epub ahead of print]. doi: 10.1001/jama.2020.0254. » PubMed citation

Kaltenbach T, Anderson JC, Burke CA, et al. Spotlight: US multi-society task force on colorectal cancer recommendations for endoscopic removal of colorectal lesions. Gastroenterology. 2020 Feb 12; 158(4):1130. » PubMed citation

Peters MC, Wenzel SE. Intersection of biology and therapeutics: type 2 targeted therapeutics for adult asthma. Lancet. 2020 Feb 01; 395(10221):371-383. » PubMed citation

Rudrapatna VA, Butte AJ. Opportunities and challenges in using real-world data for health care. J Clin Invest. 2020 Feb 03; 130(2):565-574. » PubMed citation

See all 179 DOM-authored publications last month here, and DOM-authored coronavirus-related publications here.

 FEATURED EVENTS

 

Medicine Grand Rounds (Zoom Only)
For the next few weeks, there will be a DOM grand rounds featuring some aspect of the science of Covid-19 and/or the UCSF response to it. We will email the details by Tuesday of each week. Please contact Lisa Tran if you have any questions.
Thursdays | 12pm
» Information


 


 

UCSF Health and Campus COVID-19 Response Town Hall (Zoom Only)
Join UCSF leaders to hear the latest about our response to the novel coronavirus, Covid-19.
Fridays | 4pm-5pm
» Information


 
For questions, comments, or suggestions, email the Webmaster.
UCSF Department of Medicine    |    505 Parnassus Avenue Rm M994, San Francisco CA 94143    |    medicine.ucsf.edu